Hello friends!
Did I just sound like
DJ Lance
there for a second?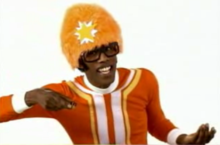 Anyhoo....Hi. I've missed you all. Sorry for not being around at all the past almost two weeks. (Thanks for checking on me Julia!) Marcus and Maddox ended up with the awesome stomach bug last week. Two, almost two year olds puking every 30 minutes and sometimes at the same time was a blast! In addition to that, two adults then catching said awesome stomach bug made for an adventurous week and weekend.
I always wondered what hubby and I would do if we were BOTH sick and had to take care of the kids. Luckily the boys were more than happy to have free reign to demolish whatever the heck they wanted. I even allowed them to eat breakfast in the living room, from one plate, because I was too ill to use two.
I missed a lot of work last week, and my house-hold chores were completely ignored. So this week has been all about catching up at both work and home.
And now it's Friday, oh how I love thee. I've decided to slack off at work catch up on some of my favorite blogs and tell you all about someplace new.
Our Mommyhood
was started by a bunch of fabulous women, who thought it would be great to provide all of us Mom Bloggers a place to meet other Mom Bloggers, as well as a be a resource for all sorts of blogging events such as weekly memes, blog hops, fundraisers, giveaways, and much more.
"
Our Mommyhood is a collection of women– some mothers, some not, some who work out of the house, some who work at home– from all different backgrounds working towards one goal: to make YOUR blog better by informing and inspiring."
If you haven't had a chance yet go there now stop

by and visit

this wonderful place

, say Hello, and join in on some of the fun events you'll find in the

Social Calendar

section.