As you know, I have twins? You didn't know that? Where the heck have you been hiding?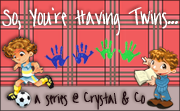 Anyhoo, when Crystal over at
Crystal & Co.
asked me if I had any advice on how to get sleep during the early days with twins, I couldn't pass it up. Instead of just one or two pieces of advice though, I had much more than that. I didn't realize I had so much to say on the topic.
Crystal runs a series called, So You're Having Twins. Usually she runs the series one day per week, but this time she received so much feed-back she will be running it for several days.
Today, over on
her blog
is
my piece
. Hop on over to read it, say hello to Crystal, and make sure you check back with her later in the week for more advice from some other MoM's (moms of multiples).