That is what is engraved on the inside of Poppa Bear's wedding band.
He truly is
My Love, My Life, My Friend
.
I'll never ever forget the day we met...
actually
meeting after weeks of stealing glances at each other. It was
June 5, 1997
. The first day of the rest of my life. I know it sounds so so cheesy....but it's true.
I was 18 and he was 24. Wow I was so young. So young, but I truly knew that he was going to be the man I would spend the rest of my life with.
Our first date was to see one of the Batman movies. The movie was horrible. But I totally remember thinking to myself, "This movie sucks...but I don't care...I'm with
him
". I really really was thinking that in my head.
You see, I did not think I was worthy of his attention.
Why
would someone like
him
want to date
me
?
Many months followed that fateful day. Our first
4th of July
together watching fireworks at Canandaigua Lake. I had a cold and felt so crappy, but again, I didn't care, I was with
him.
We used to just go for drives. Poppa Bear is a big car guy, so we would just drive all over and check out different cars. He had a pick-up truck at the time, and I would sit in the middle, as close to him as I could possibly get.
Of course, during these many months, we were both young, exploring ourselves. I had just graduated from High School so I was exploring my "New Found Freedom" (whatever that is), and he was exploring his adulthood.
We had many breakups, and get back-togethers. We finally got it right, around
Christmas 2001.
I moved in with him
February 2002
and haven't looked back since.
On Poppa Bear's 30th birthday
September 5, 2003
when he blew the candles out on his birthday cake, he got down on one knee, and announced his wish to all who were there. His wish was for me to be his wife. Wow, what an amazing moment. A moment I will remember for all the days of my life.
Then began the wedding plans. Picking a church, a dress, flowers, and mailing invitations. We were married on a beautiful sunny day, a perfect day actually...
August 21, 2004.
We went to Riviera Maya, Mexico for our honeymoon. 10 days of paradise.
Back home, we resumed our lives as normal, not much changing except the feeling of being more connected.
Time went by and we decided to purchase a new home, back in our home town, on a beautiful country road, surrounded by dairy farms and cows and just enough neighbors. We moved in
October 2005.
After some work (and still some more work to do) we made our house a home. Enjoying birthdays, holidays, and just every day life. We got ourselves into a good rhythm of life.
Then in
September 2007
our friends got married. Poppa Bear and I were both blessed to be able to stand up for our friends. We had so much fun, I mean
A LOT
of fun (wink wink) if you know what I mean.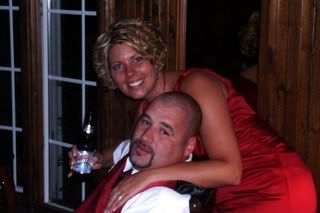 For in the days following I got to thinking, "I think I might be pregnant". And you know what,
I was right!!!
And then in
December 2007
we found out that this beautiful, amazing, pregnancy, was
TWINS!!!
Oh what a surprise!!! The best surprise in my lifetime. Poppa Bear was such a caring, nurturing man during my pregnancy. Getting enough protein is very important when you're pregnant, and you need much much more when you are carrying two babies. Poppa Bear used to always make sure I was getting my protein in. He would make me yummy treats, and leave sticky notes on them in the fridge with how much protein was in that treat. He would buy me, and make me eat these god-awful protein bars. We would just laugh and laugh about how adamant he was that I get my protein in.
Then the scariest day of my life came. On
Wednesday, April 2, 2008
I was enjoying yet another dinner over at my parents house, pregnant at 31 weeks and 1 day, when my water broke.
Everything was a whirlwind after that. If you've read my blog for long, you know the story. We were going to have our babies early. Our twins, born prematurely. Oh how I worried and cried inside. But I managed to keep it together while I kept thinking in my head, "Will my babies be ok? Will they survive? Did I do something wrong? What could I have done to prevent my babies from coming so early?"
I didn't do anything wrong. I did not cause this. I still wonder at times, when I look at my boys, if they will be ok as a result of joining our world 9 weeks too early.
On
Thursday, April 3, 2008
our beautiful baby boys were brought into the world. Little tiny babies, each with ten tiny fingers and ten tiny toes. They had some breathing difficulties to get under control, and some growing to do, but all in all, they were (and are) healthy baby boys.
They spent 28 and 31 days in the NICU. It was hard, but Poppa Bear was my rock. I would have never made it through as strongly as I did with out him.
If you've made it this far (congratulations)....the boys are almost 10 months old.
The reason why I am writing this entry is because I want all of you to know that being parents is not easy. This is the hardest thing Poppa Bear and I have had to do in our entire lives.
We work separate shifts. He is home during the day with the boys and I at night. Poppa Bear really does get the majority of the time with them during the week (of that I am truly jealous). He is the most amazing father any wife or child could ever hope for. He is more involved with his childrens' lives than any of the fathers I know today.
And as many of you know, if you are a parent...day to day life, work, parenting, being a wife or husband, can be extremely overwhelming and exhausting. The children come first...you and your spouse are last. It is a tough thing to deal with. Especially when you've had many many years that have been all about
you.
But I'm here to tell you...especially those of you who are very new moms and dads...it does...and it will...get better.
I am writing this today, to say thank you to
My Love, My Life, My Friend.
You
are
the love of my life, even if there are days that you don't feel that way. You
are
my life, I couldn't go on without you. And you
are
my friend. The bestest friend a girl could ever ask for. And I have to say, I still can't believe that
you
are
really
with
me
forever and ever.
I Love You