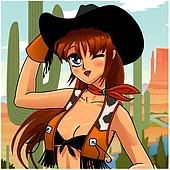 Had Cardio Country Crunch class at the gym today. My favorite! Except some new girl was in my spot!!! God - I have become one of THOSE gym bitches! I had to stand in a different spot so it threw my whole workout off. But anyhoo, this class is the best. It's country line dancing but with an aerobic/cardio workout. The last 20 minutes are pure ab work. By the time we are done we usually hit 300 to 350 crunches. LOVE IT!!! A bunch of girl's from this class and I are going out to The Roost next Thursday. It's a bar that has line dancing on Thursday nights so since we don't have to work on Friday due to the holiday, we decided we are going to go to The Roost on Holy Thursday to Raise Hell!!
My birthday is next week, it's really sad, but I told my husband I want new sneakers for my present. I am pathetic I must say. Everyone keeps asking my what I want. I DON'T KNOW! YOU SHOULD KNOW ME BY NOW TO KNOW THE THINGS THAT I WANT! I asked for books. I spend so much money on books, I mine as well get some for my birthday. My husband complains about how much money I must spend. I must buy a new book every week. I know I should go to the library, but I hate waiting for new books. If I want to read something new, I do not want to have to wait for it.
Well tomorrow should be a good day. My boss has left for vacation for a week. He left at 10 this morning. I thought I was in the clear, until he called me from his layover with things he remembered he wanted me to "look in to". As the conversation progressed, I had at least 8 new things "to look in to". Yeah - I'll look into it. WHEN I HAVE SOME FUCKING TIME!!! My god, these men I
work with and for are so damn high maintenance it drives me insane. The newest thing my boss has added to my list - on top of hiring a commercial interior designer to revamp our lobby and find a painter to change the color of the outside of the building - is to find an industrial designer to get some ideas on new paint colors for our machinery. I AM AN HR ADMINISTRATOR GOD DAMMIT!!! Since when did I become the in house color coordinator, or should it be the Color Administrator???
Well all - it's time to catch some Z's. Good night!