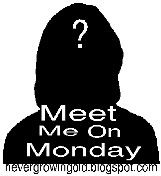 1. What is your favorite kind of fudge?
Chocolate Walnut...and boy what I would
do
for some fudge right now. I've been counting calories for three weeks. One of the guys from the police department down the hall at work brought these GIANT brownies in last week. I saw the plate first thing in the morning and haven't stopped thinking about them since.
2. Is there snow outside your window?
Oh boy there sure is....along with negative temperatures. Brr. Why do I live in Western NY you ask?
3. What is your favorite meal of the day?
Lunch. Being a full time working mom, Monday through Friday I am at work, and I get to enjoy a quiet peaceful lunch. A lunch that I can enjoy warm and in it's entirety.
4. Do you text on your cell phone?
Ha! Do I text? I text, tweet, and facebook. I barely actually
talk
on my cell phone.
5. Waffles or pancakes?
Pancakes. My husband makes
the best
chocolate chip pancakes. I like waffles a lot too. But they must be belgian with strawberries and whipped cream.